About Elite Hair Extensions Gold Coast / Brisbane
---
Our beautiful boutique salon is open 4 days per week from Wednesday to Saturday, and offers late night appointments Wednesdays and Thursdays.

At Elite, we take the time to understand your hair and what you want to achieve. When visiting us, you will be looked after by one of our very carefully selected and highly trained professionals.

Our expert team of Senior Hairdressers have extensive training in their area of specialty. They are able to cater to your every need, without compromise. They will provide unbiased, honest advice and promise safe and flawless application of hair extensions to ensure the natural hair continues to grow without stress or damage. Our Emerging Stylists are also highly skilled and passionate professionals who are picked especially for their talent and initiative.

To keep up with the latest in hairdressing trends and techniques, the entire team are required to further enhance their skills with in-salon training, external industry events, courses, workshops, competitions and attend hair, beauty, and fashion shows. You are in safe hands with us!

We are proud to be an exclusive Kerastase + Loreal salon, stocking the very best in professional products. We also have a full range of LaBiosetique styling products, GHD and our very own range of Elite hair care products for personalised extension care.
Makayla
Creative directore since: 2008
---
Makayla Kelly is undoubtedly the queen of Hair Extensions on the Gold Coast. Regularly sought out by A-Lister's and constantly in high demand by her following of loyal clientele, she is the go-to woman when it comes to seamless extensions.
A trusted expert, for years now, Makayla has been weaving her magic on celebrities and film sets behind the scenes. For her, this has been one of her highlights and an opportunity that she had never envisaged.

Founder and owner of Elite Hair, Makayla has a wealth of industry experience after 16 years perfecting her craft and pursuing her passion for continuous discovery. Like so many in the industry, her dream started with a love for the glamour, artistic and social attractions the career had to offer.
Ironically, not one to embrace the spotlight, Makayla has never chased awards and recognition, but instead focused on building her brand through her team culture. On first impression, an initially reserved exterior belies Makayla's bubbly nature and competitive edge (or commanding presence).

Building her brand into the powerhouse it is today has only been possible through the mutual dedication and commitment that exists between her and her team. The Intimate connection to her people is obvious.
"They are my work family. They are the people I choose to spend my days with and share my brand with. I love them!"
What you see today when you walk into the Elite Salon Space has been inspired from the inside out…literally. Brand Elite started its journey from the humble beginnings of Makayla's family home.

With five-star reviews, Team Elite stands out from the crowd with its glowing reputation and vibrant atmosphere. Placing a genuine focus on the values and culture that inspire her team, Makayla has built a strong foundation for the personal growth and development of her people.
In reference to the Elite core values, she states, "It's how we know we're on the right path."
Having built strong partnerships with key supplier brands Loreal, Kerastase and Great Lengths, Makayla and her team are fully equipped to offers the touch of luxury and quality her clients deserve.

Despite her success, Makayla has consistently been torn between her life's two greatest loves – hair and family. The pull from her vision of building an empire hasn't left much time for play.
In stark contrast to the world of Elite, her interests outside of hair revolve around the simpler things in life. Whether it's sourcing the best local eateries or spending time in the sun, it's being with her family that counts.
Either way Makayla knows the future is bright, as she will continue to pour her heart and soul into whatever she pursues.
Jacinta
Senior Stylist | Elite Family since 2018
---
Happy. Passionate. Easy going.

Jacinta is one of our incredible Senior Stylists who loves life as a hairdresser. The ability to be creative and make people feel beautiful is what first attracted Jacinta to this industry, and are the things that keep her going today. She loves working with amazing colleagues and guests every day, and is grateful for having consistent support in achieving whatever her heart desires.

For Jacinta, the day she received her qualification was one of the best days of her life. In addition to this, she has also previously received Extensionist of the Year, and Colour Trophy Semi-Finalist in 2020. Jacinta is passionate about anything blonde and balayage, and relishes in any opportunity to learn more and be more.

Jacinta is fiercely loyal and tends to attract others in her life that are the same. She also loves keeping up with current trends, and as a Kerastase ambassador and an expert Loreal colourist, she loves lending her passion and knowledge to our emerging team.
Tiff
Salon Coordinator & Senior Stylist | Elite family since 2021
---
Generous. Quirky. Helpful.

Tiff started with us early in 2021 as a 2nd Year Emerging Stylist. She has always loved playing with hair, and as a kid she would style (and cut!) her barbie doll's and sister's hair! She still loves playing with hair, and Tiff's favourite thing about being a hairdresser is being able to create so many wonderful styles every day. She says she can't wait to keep doing that for many years to come. She loves learning - no two days are the same at Elite!

Tiff has a passion for blow drying and waving, and is obsessed with creating stunning finally looks for our guests. Her secret talent is an excellent memory for preferences - she loves shocking guests by remembering what they like and do not like during their visit.

Tiff's favourite career moment is starting with us at Elite. She says she knows she is on the right path here and feels like she's found her home for hairdressing with us (aw!). Tiff loves that Elite has family vibes all the time, and that she could spend everyday with the team and never get sick of them. She enjoys the support and processes we have in place to help support our stylists, loves how much we genuinely love and care for our guests, and feels comfortable in knowing that we will always have each other's backs!

To Tiff, completing her apprenticeship is very important to her. She has already learned so much and come so far, we can't wait to see what she achieves in the coming years! We love that Tiff believes everything happens for a reason and that's what meant to be, will be.
Adrian
Master Colourist | Elite family since 2020
---
Compassionate. Honest. Spontaneous.

Adrian is the colourist of our dreams! He began with us in 2020, and has made such an impression on all of us. He was drawn to hairdressing through his love of fashion, art, photography, and architecture. Adrian says of hairdressing, that it has variations of all of the things he loves and is interested in. The spark has never dulled for our Adrian, and it is without doubt that he has a natural flair for creating amazing hair.

Adrian has a lot of colourful memories when he looks back at his career, including looking after celebrities and styling for high-progile photoshoots, just to name a few. He is passionate about building and nurturing relationships, and if you've ever had the pleasure of spending time with Adrian, you will know this is absolutely true!

We love the energy Adrian brings to our team, and in turn he loves our atmosphere, culture, creativity, and the fact that we really are one big family.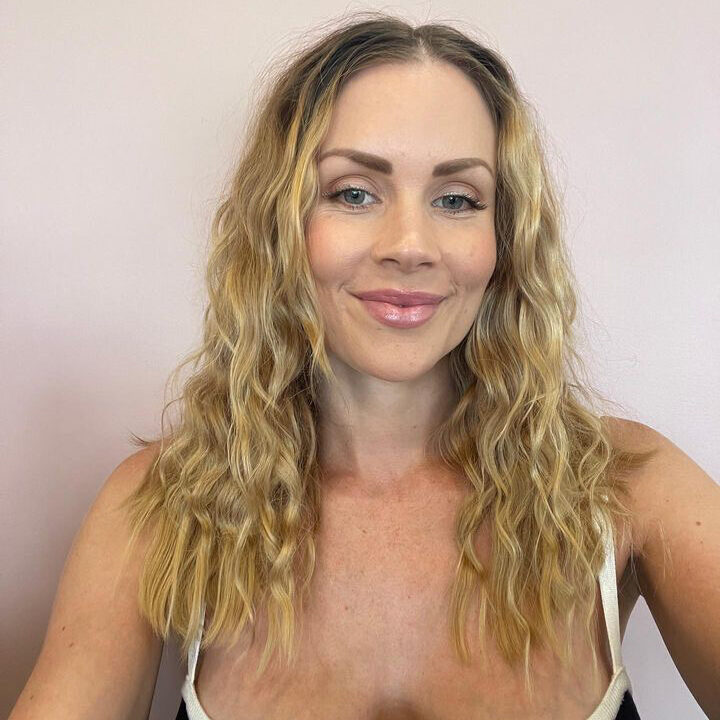 Cherry
Master Stylist | Elite family since 2022
---
Sincere. Observant. Comical.

Cherry comes to Elite with a passion for colouring hair and extensive experience in a range of salons, including her own successful home salon! At 4 years of age, Cherry's love of hair was ignited while she played with and cut her Barbies' hair, pets' hair, and even her own! Painting was also a big part of growing up for Cherry, and this combined with her lifelong love of hair, is what makes her the fabulous colourist she is today. She loves to blend colours and make her guests feel truly beautiful. Her favourite thing is healthy, bright blondes!

The most important thing to Cherry is her family. She loves spending time with her kids, walking her dog, and hitting the gym. She values honesty, patience, generosity, and loyalty – values which are clear to any guest that has the honour of knowing Cherry! She has a great sense of humour and is always down for a D&M!

Cherry's career started at 15 years old, and in that time has gained a loyal following of guests – many of whom have followed her to our beautiful salon! Cherry says that her favourite thing about working at Elite is the team and our shared values – being genuine and honest. She appreciated the support of the team in the salon and the open and positive communication we have. In our busy salon, it's important that we all have each other's back and can have a laugh when the day's been a bit tough. Cherry fits so well into our team, and we're so happy to have her!
Molly
Emerging Stylist | Elite family since 2023
---
Friendly. Caring. Helpful.

As an emerging stylist, Molly is so full of the enthusiasm, energy, and love of hair that we value so highly.

Molly can't remember a time she wasn't interested in the hair industry, and the endless opportunities and pathways are what attracted her to beginning her hair career.

So far, Molly loves to style fringes and waves, and enjoys her time doing spa work and providing our guests with top quality head massages. Her confidence in blowdrying increases every time she's in the salon, and she's excited to start learning new styling techniques, as well as learning how to foil.

Molly loves that at Elite she is surrounded by a really supportive team, and that the work environment is such a genuinely nice place to be! Outside of work, Molly loves spending quality time with her friends and family, which is a value we love and respect!

Welcome to the Elite family Molly. We can't wait to see you continue to grow.
Leah
Senior Stylist | Elite family since 2023
---
Bubbly. Funny. Friendly.

Leah loves all things beauty. She loves making people feel beautiful, and always aims to make her guests feel amazing about themselves when they leave her chair.

For Leah, some of her favourite things about hairdressing are lightening, balayage, and creating the perfect blend and tone for her guests. Her creative nature also means she's fantastic at style cuts, and loves a cute bob!

Her love of beauty extends beyond hair, and comes from many years of dance. She loves to do makeup, and would one day love to work in the film and TV industry. Leah is also passionate about health and fitness, and enjoys going to the gym to improve her mental clarity.

Since joining our Elite family, Leah has come to really love both her guests and her team, saying that the vibe and atmosphere of our salon is the best on the Coast! (And we'd have to agree). She adores her job, which is lucky, because we adore her back!
Brooke
Emerging Stylist | Elite family since 2023
---
Calm. Observant. Ebullient.

Brooke has always had an attraction to the beauty industry, and naturally gravitated towards hair. In her time with us so far, she loves the trust that guests place with her as this makes her feel so worthy.

Brooke says (which we love) that working in our industry pushes you out of your comfort zone to experience new things, and while this can be uncomfortable, its an important factor in personal growth and character building.

As part of our growing Elite family, Brooke says that she loves that she's always supported. She feels blessed and grateful to be a part of a team that makes her feel at home in the salon.

Brooke values family, honesty, and respect. She believes in always doing what feels right, what you love, and what will help you grow towards your desired future.

We couldn't agree more, and we feel so lucky to have such a positive influence in our salon!